Your gateway to the Far East !
It has taken months of discussions, development and hard work from our Singapore team, but we got there : Stuffing pipe in containers again in Jurong Port ! Local safety regulations stopped most operations handling tubulars in Jurong port, but our people worked closely together with authorities and made it work again.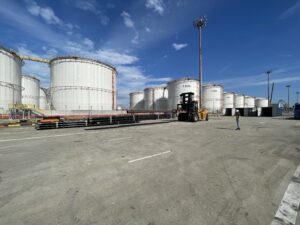 Constantly improving service level through time...
Experience and expertise make the difference...
...when it comes to safety and reliability. Having loaded hundreds of containers with tubulars over many years gave us an edge in our discussions with port authorities and we're proud to say that it's business as usual again. Leave your cargo in the hands of our expert crew in Singapore!
Here to help !